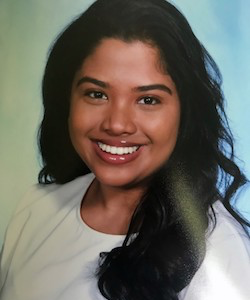 Tina Thermadam
Tina's current role involves creating new content for informative pages on the Malecki law webpage as well as producing creative pages on current issues that are relevant to the Securities field or world around us. A critical part of her role is to research regional data and produce an overview of how various financial service regulations, laws and rulesimpact the field and change the world of investments. Analyzing how people of color and women are impacted by the securities field, whether it was equal employment or increased vulnerability to fraud, was a fascinating task she was recently involved in completing. Ms. Thermadam's role encapsulates the need to research fraud in various geographical regions, explore the impact of current legislative measures meant to protect investors and subsequently articulate that to consumers. Her role also expands to inform consumers about how Malecki Law can serve them and work with them to bring favorable results. Whether it is Fortune 500 companies or an everyday citizen, Malecki Law has worked on a variety of different cases for both the plaintiff or defendant in order to bring justice to our clients.
Prior to working for Malecki Law, Tina was completing her Bachelor of Arts degree in Political Science with a minor in Orthodox Christian Studies at Fordham University- Lincoln Center. She graduated in 2020 and will be attending Albany Law School in the Fall. Over the course of her academic career, Tina interned for Hillary Rodham Clinton, Senator Chuck Schumer as well as local Senator David Carlucci. She developed a strong understanding of state affairs, various constituent services, briefing etiquette as well as the importance of research. Tina used these roles to explore different sectors of government and public service as well as learn about hurdles revolving justice for clients. Through classes regarding New York City Politics, American Social Movements, Race, and Ethnic Politics and Philosophy, Tina was able to grapple with the logistical execution of justice for constituents as well as the shortcomings of the systems through which our nation functions. One of her biggest feats was using that understanding and experience to be the voice on her own campus and win a contested election for President of Student Government at Fordham University. From then, her experience in student affairs, student conduct reviews, budget hearings, student organization management, COVID Fall planning boards, and dedication to service for students molded her understanding of leadership and thirst for constant growth.
Tina has consistently strived to learn in various different roles and experiences which is one of her evolving goals in life. She deeply believes in exploring the newness of any space to learn and become more well-rounded intellectually. She admires individuals like Dorothy Day, Claudette Colvin, Ruth Bader Ginsburg, and Dr. BR Ambedkar. Those individuals depict courage, determination, service, humility, and intellectual superiority. Their ideals represent working towards a world that is better after their time than it was when they began their lives. She simply hopes to do the same. Her hobbies include creating relevant informative programming for youth groups in her community, spending time with friends as well as trying new cuisines. She is invested in looking for the world's best Pad Thai. But beyond everything, she is constantly open to learning and tremendously eager to be a part of our team.