Client Testimonials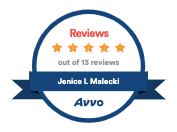 ---

Jenice Malecki, is one of the most helpful individuals Ive had the pleasure of speaking with. She is super knowledgeable. She helped me navigate the ever changing world of securities law. You will find her understanding of complex matters helpful and insightful. She is straightforward and candid. She makes your options easy to understand. I would recommend her without any hesitation. 10/5 stars!
- Enrique Tiburcio
---

I highly recommend Jenice and her team for any securities matters. She is a true professional and a pleasure to work with. She responds quickly to emails and listens to your concerns/questions. Jenice makes sure you're always informed and in the know about your case. Great experience and also very fairly priced!
- Jeff
---

An excellent professional who represented us in trial regarding a bank fraud, an unexpected and difficult time.
A professional that worked hard, persevering and who stood toe to toe against firms that had a team of excellent lawyers backing them up. Her unflinching determination really stands out, it makes you feel you have someone who really cares about trying to recover what you lost from the people that wronged you.
- Salomon Levi
---

It is difficult to thank you in words when gratitude comes from the heart, so I will try to link feelings with writing.
It is essential for us to mention your excellence as a professional, your aptitude on legal fields, and your unavoidable persistence.
All of these virtues that elevate the profession you exercise in such an admirable way, go hand in hand with your sense of ethics, your human warmth and the transparency in your actions.
To sum up, thank you for being a listening ear and for having the right word while transmitting information about the legal process.
Having you as our representative during such an adverse situation was a privilege and enough reason for our eternal gratitude.
- Angeles Aparain
---

To say that my securities litigation was complex would be a severe understatement. With multiple parties involved and spanning many years, trying to understand the issues was daunting to say the least. Jenice and her team broke down the transactions by segment and by party uncovering every hidden expense. In the end, I was more than happy and could not thank Jenice and her team enough. I would not hesitate to recommend Jenice to anyone. She is highly professional, incredibly knowledgeable, well connected to industry experts, has a tireless work ethic and is so pleasant and easy to communicate with. Five stars for sure!
- Andrew Loughrane
---

I was referred to Jenice Malecki by an attorney when I was seeking to sue a major brokerage firm for broker negligence. I also interviewed another securities attorney in Ohio on the advice of a friend. When I told him I was thinking of hiring Jenice for my case he didn't even try to persuade me to change. He gave her the highest recommendation. I considered this amazing since he was her direct competition. She didn't disappoint me either. She started out by giving me completely realistic expectations about my case and then proceeded to double the monetary award when we went to mediation. She is extremely professional and highly personable. I give her my highest endorsement. You will be very fortunate, indeed, should you hire her.
- Peter Clifford Lobrutto
---

Jenice Malecki is a highly successful securities law attorney. She is a brilliant strategist. She is a well respected litigator who knows how to win in court. As a former CEO and President of a public company traded on the NASDAQ (and currently a College President), I can attest, as a client, that Jenice Malecki's understanding of the law along with her business acumen and intellectual gravitas resulted in a 100% victory in my case before the Supreme Court of New York State. Jenice is a passionate and determined lawyer -- I want her in my corner -- anytime!​
- Dr. John J. McGrath
---

I have NO hesitation in recommending Jenice Malecki. She made a horrible situation bearable and performed above and beyond our expectations.
- April Voorhis
---

I highly recommend Malecki Law. It was a gratifying experience having Ms. Malecki incharge of our case. She is a true professional with a lot of experience.
- Jose Zorrilla
---

I highly recommend Malecki Law. They were professional, diligent and a pleasure to work with.
- Mary E. Digan
---
Simply the Best


Jenice Malecki is a remarkable attorney. In 2008 Our world (financially) came crashing down on us. We had sought her advice regarding our investment firm and and financial advisor. She was very attentive to every detail and went to great lengths to get to the bottom of our troubles. She communicated with us regularly and kept us informed throughout the entire process. Thorough would be an understatement. She is a true professional. Her preparedness for our case was beyond reproach. We were extremely satisfied with the way our case was handled and its outcome.
-
ED and Nancy
---
Helping us with Broke-Rage


I worked with Jenice and her team to successfully resolve a brokerage / securities related issue for an elder relative and was quite pleased with how they walked us through the process and took into account the challenges that age sometimes unfortunately present. They were all professional - and effective. I would use them again without question if the need arose.
- Bart
---
Highly Recommended


I haven't formally retained Jenice (yet), so not sure about the usefulness of this recommendation, but Jenice was kind enough to share some valuable insights on restrictive covenants and its potential consequences on my startup business. I was impressed not only by her professional expertise, but how quickly she comprehended my particular situation and applied common sense to her opinions. Also, I truly appreciated her readiness to spend ample time discussing the issues, allowing me to get a solid, broad understanding of the restrictive covenants landscape. She gained my full trust and I wouldn't hesitate a second appointing her my attorney, if needed.
- Alex
---
Representation against large brokerage company.


Ms. Malecki is the consummate professional. Her understanding of the legal issues and court tactics are nothing less than outstanding. She always promptly responded to any concerns I had and took the time to explain complicated legal issues.
- George
---
Securities

This attorney is attractive and personable . . . But don't let that fool you . . . She is also extremely knowledgable and tough when necessary. She is a great negotiator and she gets great results even when you think that no results are even possible. She always makes herself available to speak to you by phone no matter how often you may call her. She is also very honest, which I discovered by way of expense retainers. Other attorneys that I dealt with in the past, once you give them a retainer, it's gone, even if they only used half of it (which you'll never know) however, Ms Malecki does not hide expenses; if she didn't spend all of your retainer, you'll get back what she didn't use. Her staff is also easy to work with.
- Scott
---

Excellent!!!
A+ Out there is No better choice than Malecki Law!
- Warynex Carlo
---
All reviews listed here have been published on AVVO, LinkedIn and Google+