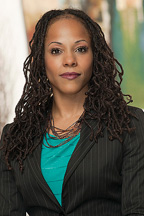 Jalila A. Bell
JALILA A. BELL, Esq., serves as Of Counsel to Malecki Law Ms. Bell is the managing principal for the boutique litigation firm, The Law Office of Jalila A. Bell, Esq. Since 2006, Ms. Bell has overseen complex litigation resulting in trial wins, criminal action dismissals, and favorable settlements.
Ms. Bell represents a diverse roster of persons, including high profile and celebrity clients, working professionals, artists and laborers. She regularly counsels clients across a number of practice areas, including civil rights, labor and employment, real and intellectual property rights, criminal and family law. Her sought-after legal analyses have been upheld on summary judgment and on appeal.
In 2015, Ms. Bell's work on a Fair Labor Standards Act class action litigation resulted in a judgment after trial of over $1.3 million dollars in damages for the class, and attorneys' fees.
In 2016 and 2017, Ms. Bell negotiated multiple lucrative intellectual property licensing contracts on behalf of an international products manufacturer.
In 2018, Ms. Bell was acknowledged as a Lawyer of Distinction for Outstanding Civil Litigation.
In 2019, Ms. Bell obtained dismissals, with prejudice, of criminal actions brought against her clients on charges of felony sexual assault, misdemeanor assault, domestic battery, and for family offenses. Ms. Bell has also successfully resolved temporary orders of protection prior to trial, resulting in greater personal and job security for her clients.
In 2019, Ms. Bell prevailed for her client on appeal in the Appellate Term Second Department, obtaining a vacatur of a civil court judgment made against her client.
In 2019, Ms. Bell's work on a Fair Labor Standards Act litigation resulted in a full recovery of all unpaid wages for a migrant worker plaintiff through settlement, including an award for attorneys' fees.
In 2020, Ms. Bell obtained a Family Court decision in favor of her client after trial, by establishing beyond a preponderance of the credible evidence that the respondent in that action committed the family offenses of assault in the third degree under Penal Law 120.00(1) and harassment in the second degree under Penal Law 240.26 (1) and (3).
Jalila is known for her sensitivity and understanding of the special needs and concerns of multicultural communities, small businesses, and artists. She's also well known for her ability to address and resolve unique legal and social problems, both in and outside of the courtroom.
Jalila is a vocal advocate for civil, labor, tenant's and women's rights. She is a regular participant of the National Women's March and a member of the National Action Network. She regularly donates to civil rights organizations such as the Dolores Huerta Foundation and the Transgender Law Center.
A talented and respected artist in her own right, Jalila has appeared in, choreographed, and produced projects for the stage and screen for over two decades. Jalila is a principal dancer for Nyane Khosi Dance (NYC/South Africa). She is an alumni of the dance department at Ruth Asawa School of the Arts, an honorary member of the SOTA Theater Department, and a graduate of the American Dance Festival six-week school. In 2015, Jalila became a certified registered yoga instructor (RYT-200). She teaches dance performance and stage elocution nationwide for children, youth, and at the collegiate level. In 2019, Jalila co-founded the Curious Ones Family Center, a family-run early childhood education provider for Solano County, CA. She currently serves as the Movement & Arts Coordinator for the Center.
Jalila is licensed to practice law in New York State and in the United States Courts for the Northern, Southern and Eastern Districts of New York. She received a Juris Doctor from Golden Gate University Law School and obtained her Bachelor of Arts in Government and Bachelor of Arts in Dance from Mills College.